Water Damage Restoration in Central Illinois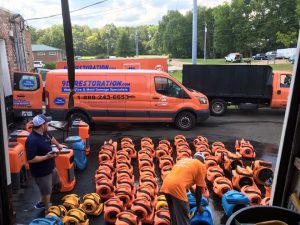 It's just another day coming home from work until you realize a pipe has burst and your basement has flooded. While the common initial reaction is to panic. The best course of action is to stay calm, cool and collected as you dial the water damage restoration company trusted by many property owners in Central Illinois, 911 Restoration. With the expert technicians at 911 Restoration of Central Illinois on the case, property owners can rest assured that their home or business will be better than new when the job is finished. Cast your worries to the side and allow our highly trained IICRC technicians provide total property restoration and emergency water removal services. Please call us at 309-244-4178
At 911 Restoration of Central Illinois, we know there is no such thing as a convenient time to experience property damage of any type. For this reason, we keep our office open year round — 24/7, 365 days per year. Whether you have experienced a sewage backup during the late hours of the night or have roof damage causing a water leak early in the morning, the expert technicians are available for water damage restoration services. Property owners can expect the IICRC technicians to arrive within 45 minutes of their phone call. Upon their arrival, techs will begin by assessing the property's damage and determine the root cause behind the damage. Due to the knowledge, training and experience of our pros, they are able to detect what water cleanup services are best fit for your unique situation, rather than trying to offer a "one size fits all" approach.
When experiencing water damage, it is important to get the restoration services you deserve. With 911 Restoration of Central Illinois, property owners receive a highly trained water restoration company that truly cares. While the techs are initially hired for water damage restoration, we go the extra mile by working alongside property owners from start until finish. The entire crew at 911 Restoration provides a personalized approach to each situation and will take whatever steps necessary to ensure you get the Fresh Start you deserve.
Leave the water damage cleanup services in the hands of the experts at 911 Restoration of Central Illinois!
Emergency Flood Cleanup Services Available 24/7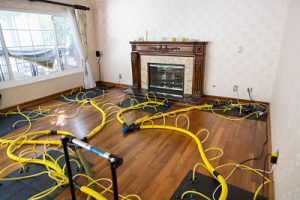 Central Illinois, Peoria and surrounding cities face the wrath of some extremely harsh winter days. It is not uncommon for the temperature to dip into the negatives. But, the temperature can actually begin affecting the pipes in your property when it is in the thirties. When property owners don't take the necessary precautions during colder days it can lead to frozen pipes. Frozen pipes then experience a build up of pressure which can lead to property flooding and water damage. Due to the risk of flooding, it is important to follow the tips on preventing freezing and pipe bursts. For instance, during the days that you know the weather is going to be extremely cold, allow the faucets to drip. Property owners can also leave the heat on and cabinets open in an effort to avoid pipes bursts.
It's important to know that there are some areas of a home or business that are more likely to experiencing pipe bursts. Despite where the water damage occurs, it is important to act quickly. As soon as you notice flood damage contact the expert techs at 911 Restoration of Central Illinois for water damage restoration services. Not only can flood water cause a lot of property damage, there's always the chance of damaging your health and the health of those in the property. While you may not always be able to avoid flood damage, being aware of the areas to look out for will help in your endeavors. The following are more prone to experience water damage: Call us at 309-244-4178 and see how we can help you.
Pipes. Pipes are everywhere throughout a residential and commercial property restoration. They can be found in the walls, under floors and even on the exterior of the building. Burst pipes are a common suspect behind property flooding because they are so present throughout a property. While pipe bursts commonly occur during the winter, they can happen any time of the year.

Bathrooms. Your bathrooms are filled with multiple sources of water. The pipes and drains can become clogged and result in overflowing water. There are even scenarios where bathroom flooding has happened due to someone forgetting to turn off the bathtub or sink for an extended amount of time.

Appliances. Household appliances like the washing machine and dishwasher can cause water damage if they aren't connected right, have faulty parts or begin leaking.

Roofs. Strong storms that have heavy rain and a lot of wind can cause roof damage. In addition, roof damage can be the result of being installed wrong. Storms and faulty roof installation can lead to flooding throughout a property.
Often times with water, the damage can be worse than what meets the eye. At 911 Restoration of Central Illinois the highly trained IICRC technicians know the signs to look for. The techs will check for mold infestations, structural damage, carpet damage and more. In the event that mold removal is required, the techs will safely and efficiently provide mold remediation techniques.
Experts in Mold Removal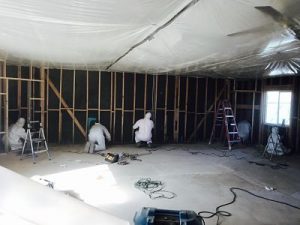 The last thing any property owner wants to hear is that they have a mold infestation in addition to water damage. In order to form, mold spores need a water source. This is why it is so important to receive water cleanup services as soon as possible. Mold infestations can form quickly, within 24 to 48 hours of being exposed to a water source. At 911 Restoration of Central Illinois, the techs will make sure the water is completely extracted and dried. In the event that an infestation has already formed, they will use necessary equipment for mold removal. Call us at 309-244-4178 and please allow us to offer you a free visual inspection.

Mold and fungal infestations are a source to be reckoned with. They can wreak havoc on your property and your own health. It is best to let the mold removal experts handle the infestation in order to keep yourself safe. Your well being is our top priority. In order to best serve those in the Central Illinois area, 911 Restoration offers benefits such as:
Free Visual Inspection for Property Owners Only

Free insurance consultation

Mold removal and mold remediation

Complete water extraction, drying and dehumidifying

Emergency roof repair services

Emergency storm repairs

Testing and evaluation of structural damage

Burst pipe emergency repairs

Complete property restoration

Highly trained technicians that truly care
Contact 911 Restoration of Central Illinois to get the Fresh Start you need!
Serving the communities of Armington, Bloomington, Canton, Carlock, Champaign, Chillicothe, Congerville, Cooksville, Creve Coeur, Danvers, Deer Creek, Delavan, Galesburg, Havana, Pekin, Peoria County Mold Removal , Peoria County Water Damage, Washington and surrounding areas.