Sanitization Services in Illinois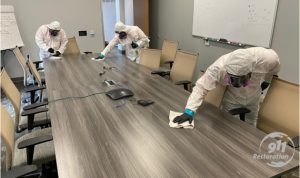 We are living in unprecedented times in Central Illinois. Everyone in the community is working together to slow the spread of the coronavirus. You can do your part to help the community during this pandemic by staying self-isolated and practicing proper hand washing hygiene. You can also maintain your peace of mind by focusing on sanitization services for your home or business. call us 309-244-4178
911 Restoration of Central Illinois is fully prepared to offer you professional help during the coronavirus pandemic. We adhere to the most recent recommendations issued by the CDC and the EPA. Our techs understand what it takes to develop personalized disinfection solutions for you. We are ready to provide care for both residential and commercial property owners.
Getting the help you need can be as easy as making a quick phone call. sanitization services specialists are on-call to help you right now. Crews can provide you with office deep cleaning and retail space cleaning solutions. Contact us if you run an essential business that must stay open during this pandemic. We can set up a regular cleaning schedule for you starting today. We can also assist if your business shut down temporarily during the pandemic. Call us at 309-244-4178 and allow us to provide you a free visual inspection.

Professional Disinfection Solutions in Central Illinois
911 Restoration of Central Illinois understands how important it is to keep your property clean and sanitized during this time of illness. We put your peace of mind and well-being first as we deal with the coronavirus as a community. Sanitization techs can:
Clean hard and soft surfaces in your property with soap and water

Use EPA approved disinfectants to sanitize your property

Set up a cleaning schedule for you

Sanitize both commercial and residential properties
Keeping your property clean and sanitized can also increase the peace of mind of your employees and customers. Many businesses are shut down at the moment. However, some businesses in Central Illinois must stay open to provide essential services to the community. Taking care of your employees during this time can help them feel more comfortable as they go about their jobs.
You can also turn to 911 Restoration of Central Illinois for help if your business was temporarily closed due to the coronavirus. Reopening once this pandemic passes should be an exciting time. Allow us to clean and sanitize your property so you feel ready to get back to normal. We're fully prepared to offer you same-day disinfection solutions, so contact us at 309-244-4178 today.