Disaster Restoration Central Illinois
911 Restoration of Central Illinois understands the devastation and distress a disaster can cause homeowners and business owners.
Our team of professional emergency disaster experts is committed to making this time as stress-free as possible. We provide commercial restoration and residential restoration to properties located in all surrounding areas in Central Illinois, including cities like Springfield, Peoria, Bloomington, and Normal.
Our emergency restoration service team is available 24 hours a day, 365 days a year. We guarantee an arrival time of 45 minutes when you're experiencing a flooded basement, burst pipe, sewage backup, or other structural damage that requires speedy flood cleanup, and fire cleanup. We also help with mold inspection and mold removal in Central Illinois and surrounding areas. Call us at 309-244-4178 and allow us to provide you a free visual inspection.
As a locally owned and operated nationwide business with franchises all across the nation, we are known as the top-ranked water damage restoration experts. Our customers get the support they need anytime disaster strikes.
As a fully licensed, insured, and bonded organization, our Central Illinois disaster restoration team is IICRC-certified in full-service renovation: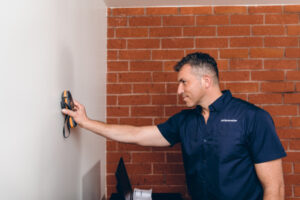 Water damage restoration
Fire Restoration
Sewage cleanup property sanitization and disinfection
Mold remediation, mold removal
When you experience a disaster in your home or commercial building, you can rely on 911 Restoration of Central Illinois. We have been in this industry for decades and our emergency restoration experts can handle everything from Central Illinois water damage restoration, flood cleanup from a flooded basement, sewage backup, and more.
We operate in full transparency and offer regular communication and assistance with water damage restoration repairs.
We offer a free visual inspection, a free insurance consultation, and a thorough and other water damage inspection services.
As a water removal company, a disaster can cause many inconveniences. We're here to help you figure out a path forward by using the latest industry restoration techniques: mold removal, flood cleanup, and other water damage inspection services.
Call us at 309-244-4178 911 Restoration of Central Illinois for effective professional water damage restoration in Central Illinois and all surrounding areas.
The Fastest Emergency Restoration in Central Illinois
When you encounter a disaster, our disaster restoration team will travel to your site within 45 minutes.
You might have a flooded basement or another incident that requires smoke removal and fire cleanup, or a more targeted ceiling leak that needs to be sealed and addressed.
We assess any damages and provide mold inspection in Central Illinois. We also assist with mold removal, and other sanitary services in addition to our commonly requested water clean up service.
We run on delivering quality and fast emergency disaster restoration services for residential and commercial restoration in Central Illinois and surrounding areas 24/7.
Our ability to respond to the call and provide thorough mold removal Peoria and mold decontamination services, among other Central Illinois flood cleanup services has led us to become one of the top-ranked water extraction franchise companies.
While there are several other water extraction companies to choose from, we thank you for your business.
As a water clean up service, we know time is of the essence, which is why our team at 911 Restoration of Central Illinois arrives in 45 minutes or less, to assist with flooding, mold decontamination, mold removal, mold remediation, fire and flood clean up, and other services for commercial restoration or residential assistance. Call us at 309-244-4178 and learn how we can help
A Fresh Start After Disaster
We understand how stressful this time may be, especially when dealing with extensive repairs after an unexpected disaster. We're here to provide quality and affordable emergency disaster restoration services and customer service to guide you through this tough time.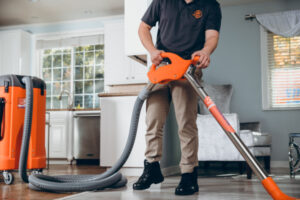 At 911 Restoration of Central Illinois, we embrace the Fresh Start philosophy. Our emergency disaster restoration professionals believe every disaster is an opportunity to rebuild, better than ever. Beyond flooded basement cleanup, Central Illinois mold remediation, mold decontamination, and smoke removal, we also work to uplift spirits and restore and rebuild your property.
You deserve to work with a top ranked water removal clean up service company that provides compassion and an understanding of the latest industry techniques for speedy water damage extraction and mold remediation.
Our emergency disaster restoration workers are always up to the challenge. They know how to fix, repair, and provide meticulous mold inspection to ensure your space is sanitized and kept free from long-term problems or future structural damage.
When you've experienced a natural disaster, we know that time is of the essence. You need someone who can understand and work within your budget to deliver quality repairs right away. Don't hesitate. Call us at 309-244-4178 911 Restoration of Central Illinois today.
Serving the communities of Armington, Bloomington, Canton, Carlock, Champaign, Chillicothe, Congerville, Cooksville, Creve Coeur, Danvers, Deer Creek, Delavan, Galesburg, Havana, Pekin, Peoria County Mold Removal , Peoria County Water Damage, Washington and surrounding areas.