Fire & Smoke Damage Restoration Central Illinois
After a fire has been put out in your home by the fire department, you need the help of our fire damage Peoria professionals at 911 Restoration of Central Illinois to clean your property of smoke, ash and soot with our fire damage restoration services.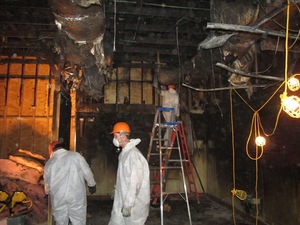 Our IICRC certified fire damage Peoria team understands that a fire can ravage a home, with the lasting effects being just as equally as damaging on both the property and the possessions inside, which include smoke stains, odor, char and resin.
When ash is left to sit on the home's surfaces, it can turn into an oily residue that can stain and ruin the property. It is not possible to just clean this up with normal household supplies, it needs the attention of our fire damage Peoria staff.
Our fire damage Peoria staff has the special cleaning agents that are needed to thoroughly clean your household, leaving it smelling fresh and looking beautiful.
With so many years of experience in the home restoration field, our fire damage Peoria technicians are professionals in providing comprehensive services, such as:
Overall comprehensive fire damage repair
Water damage restoration from fire hoses
Smoke deodorization
Debris cleanup
Ash and soot removal
Smoke stain restoration
Our licensed, bonded and insured fire damage Peoria agents want to make sure that your living the safest, healthiest environment possible, so call us today!
Count On Us To Stop Smoke and Ash From Harming Your Home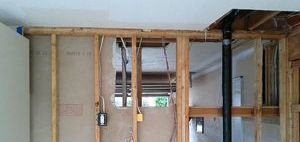 When ash, smoke and fire damage are left unmitigated, then these substances cause permanent damage on the home itself, and all your items inside.
Our fire damage Peoria specialists will arrive with all of the proper equipment and get to work quickly in order to minimize these negative effects and get your home looking like the comforting place you know and love.
We understand that you have already gone through an overwhelming time with the fire, and we don't want to out any extra pressure on you and your family, which is why our fire damage Peoria pros always offer affordable prices.
On top of our already competitive prices, our licensed fire damage Peoria pros always work with insurance companies.
If disaster is a new experience for you and you have never had to communicate with your insurance provider, then you can count on our fire damage Peoria crews to file your claim for you in order to make the process as stress-free as possible.
Our fire damage Peoria unit puts customer service at the top of our list, and we will do everything we can to keep you satisfied.  So, call us today and see how we will go the extra mile to help you get your home back in order.
Smoke and Ash Damage Remediation Is Our Forte
It doesn't matter what type of job we are on, our fire damage Peoria operation values professionalism.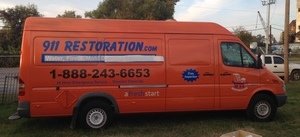 When we are called to clean up the side effects of home fire, the first priority of our fire damage Peoria workers is to make sure that you are feeling safe and secure.
This is why our fire damage Peoria techs always puts the customer's feelings first, whatever that may mean. If you need help with your insurance, extra information about the cleanup process or just someone to talk to, we will be there.
Our fire damage Peoria experts at 911 Restoration of Central Illinois want nothing more but to make you feel comfortable in your home after a fire has taken place, so call us today to get that fresh start.