Fire Damage Restoration in Central Illinois
After the fire has been put out by the fire department, your property will be filled with smoke, soot, and ash, creating fire damage on your walls, ceilings, surfaces, and belongings.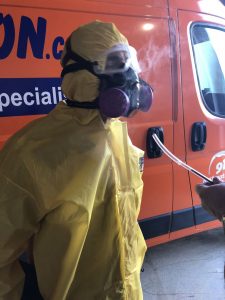 As soon as your home or business is deemed safe to reenter you should call us at 309-244-4178 911 Restoration of Central Illinois to administer fire cleanup services that will address the flame and smoke damage throughout your property.
911 Restoration has earned their IICRC certification, as well as being licensed, bonded, and insured, so customers can trust that they are receiving fire damage restoration services from the most qualified technicians.
On top fire and smoke damage, the fire department also creates significant water damage when they extinguish the fire, which can be just as damaging, if not more, than the fire itself.
With so many years of experience in the fire damage restoration field, the repair techs are experts at implementing the comprehensive services needed to mitigate the situation entirely.
Our experts provide fire cleanup in Central Illinois, Peoria, water damage Bloomington IL, Normal and any surrounding cities with the goal to make sure their customers never have to go through a fire disaster on their own.
So, call 911 Restoration of Central Illinois as soon as the fire department leaves your home or business, and we will get the restoration process started by providing the property owner with a free visual inspection.
Prevent Smoke and Ash From Permanently Damaging Your Property
While a fire can ravage a property within five minutes, the effects of that disaster can last much longer, especially when dealing with smoke stains, smoke odor, and ash.
When these substances are left to sit on the surfaces of your property, it can turn into a tar-like residue that can cause permanent stains. It is not possible to clean this up with regular household supplies; it needs the attention of the fire cleanup professionals.
The repair techs use the specific cleaning agents that are made specifically to remove this oily residue and get rid of the foul odor, leaving your property smelling fresh and looking beautiful.
It is crucial to receive fast cleanup services after a fire has occurred because when ash, smoke and fire damage are left unmitigated, these substances can cause permanent damage to the property itself and all your belongings inside.
The odor created by the fire is emitted from the smoke, ash, and soot that is disbursed throughout the property. By vacuuming up all the debris as soon as possible, it won't have time to settle deeply into the porous materials and create a permanent smoke smell.
Same-day services will minimize the smoke damage and get your home looking like the comforting place you know and love. Give us a call today and let us give you the peace of mind you deserve. Call us at 309-244-4178 and please allow us to offer you a free visual inspection.

Free Insurance Consultations After A Fire
When the repair techs are called to administer fire cleanup services, their priority is always to make sure that the customer is feeling safe and secure despite the disaster that has just occurred.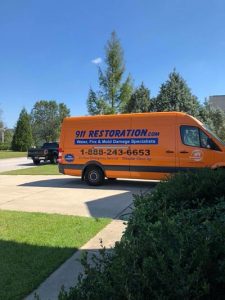 It's understandable that you may be feeling overwhelmed during this time, especially when it comes to the financial side of the fire and smoke restoration process.
To help make this process go smoothly, 911 Restoration of Central Illinois keeps their prices affordable, as well as accepting insurance from virtually every provider.
On top of working with insurance companies, the staff members will file your claim for you. We put customer service at the top of our list, and our staff will do everything we can to keep you satisfied.
If you need help with your insurance or have questions about the fire cleanup process, our office acts as a fire information center so you can reach out to us any time. Call us at 309-244-4178 and see how we can help you.
When you have experience fire and smoke damage in Central Illinois, call the experts at 911 Restoration to receive a Fresh Start from a team that cares and understands your needs.