Mold Removal in Peoria County
Winters in Central Illinois come with a heightened risk for water damage. Summers bring humidity and the constant presence of moisture. In other words, no matter the season, properties in Peoria, Bloomington, Normal, and the surrounding communities are constantly at risk of mold contamination.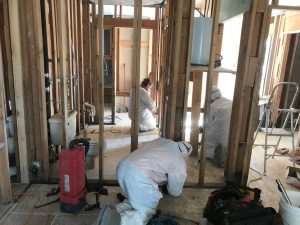 On the plus side, this region also has easy access to a caring, IICRC certified mold removal crew.
911 Restoration of Central Illinois is staffed by true mold remediation experts. They know everything there is to know—how to identify toxic varieties, how to conduct safe mold decontamination, and how to treat the structures of your property so you're unlikely to have another colony appear any time soon.
In addition to being mold cleanup experts, our technicians are human beings and your neighbors in Peoria. They know that discovering mold growth in your home or business is like discovering a true invasion. The property you've poured all your resources into has been taken over by a fungus…or so it would feel. Not only is this particular invasion unsightly; it also presents notable health risks. The more toxic varieties can even present risks such as respiratory issues and heart problems.
The mold remediation professionals of 911 Restoration understand all of this, and they treat your property as if it were their own. You can count on them to conduct mold removal safely and swiftly, minimizing structural damages and ensuring the future health of both your property and yourself. call 911 Restoration of Central Illinois at our number 309-244-4178

Whatever your reason for needing mold remediation in Peoria, let 911 Restoration be the company you turn to. Call now, and mold cleanup experts will have you breathing easy again before you know it.
Mold Removal After A House Flood
As an emergency water removal company, 911 Restoration emphasizes the importance of mold inspection following any type of water damage. If your house flooded, you had a sewage backup in your business, or your property has been subjected to any other form of water damage, a professional mold inspection is imperative.
The truth is, it only takes 24-48 hours for mold spores to make a home and build a colony on a damp structure. This may sound like a lot of time, but materials like concrete can absorb water deep within, making total structural drying a much longer process than you might think.
This is why the 911 Restoration includes a free visual mold inspection for property owners. They check all the dark and sneaky places where mold tends to thrive. If they discover a colony, they take a sample to a third-party laboratory for testing. This way, they can can proceed with mold decontamination based on an unbiased, science-based evaluation of your unique infestation.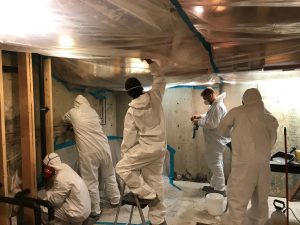 Mold cleanup requires professional equipment to remove mold safely. The mold remediation staff also complete structural drying and dehumidifying to make sure they've made your property inhospitable to future growth.
They even repair any surface that has been destroyed by mold contamination. If you need carpet removal after a basement flood, they'll tear it out and replace your rug. They can handle drywall repair, hardwood flooring replacement, and any other surface repair you may need. 
The entire staff of 911 Restoration of Central Illinois operate on the principle that every challenge is an opportunity to begin again, better than ever. Mold removal technicians put this philosophy to work when they arrive at your home or business. Their primary goal is to leave your property in better-than-new condition.
If you need mold remediation in Peoria, don't waste time and money on a company who will just remove the infestation and leave. Call the company who cares for the total health of your property and the people occupying it. Call us at 309-244-4178 911 Restoration.
Black Mold Cleanup In Peoria
If you're looking for an effective home remedy for mold contamination, you won't find it. Mold is a stubborn and complicated organism, and long-term mold removal requires professional treatment.
However, there is a question more important than whether you can tackle mold cleanup on your own.
The question is: Should you handle your own mold decontamination?
The answer is no, because mold remediation can be a dangerous process. Toxic varieties of mold such as infamous black mold already release too many toxins into the air you breathe. If you try scrubbing those mold colonies out, you'll disrupt the organism, causing it to release even more mycotoxins into the air and directly into your lungs.
Your safest option is always to go with an IICRC certified mold remediation company like 911 Restoration. Our mold removal staff is highly trained to get rid of mold without posing a danger to themselves, to you, or to any other humans or pets that occupy your space. Moreover, they know how to remove mold and dry the structures of your property to keep you safe against further toxic growth in the future.
Mold is a pest in the truest sense of the word, but 911 Restoration can make sure it's the "here today, gone tomorrow" type of pest.
Call now and let us show you a Fresh Start. Call us at 309-244-4178 and please allow us to offer you a free visual inspection.

Serving the cities of Armington, Bloomington, Canton, Carlock, Champaign, Chillicothe, Congerville, Cooksville, Creve Coeur, Danvers, Deer Creek, Delavan, Downs, East Peoria, El Paso, Ellsworth, Farmington, Galesburg, Green Valley, Gridley, Groveland, Havana, Heyworth, Hopedale, Hudson, Le Roy, Lewistown, Lexington, Lincoln, Mackinaw, Manito, Mason City, Mclean, Minier, Morton, Normal, Pekin, Peoria, Petersburg, San Jose, Shirley, Stanford, Towanda, Tremont, Washington, and surrounding areas.