Mold Removal in Central Illinois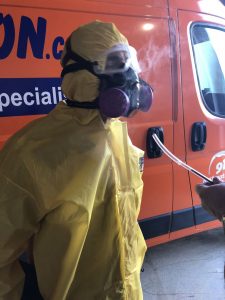 The water damage caused by floods, snowstorms, leaking roofs, and frozen pipes can allow mold to infiltrate homes and businesses around Peoria, Bloomington, and Normal. A mold infestation can quickly spread through your property, causing massive amounts of damage and endangering your health.
The mold removal pros at 911 Restoration of Central Illinois can provide you with the help you need to handle a mold infestation. Mold remediation is a complicated process that requires training, experience, and professional equipment to handle quickly and effectively.
You can reach out to 911 Restoration of Central Illinois 24/7/365 at 309-244-4178 to ensure the mold cleanup process starts with same-day services. Our techs can even reach properties throughout Peoria and Bloomington within 45 minutes of an emergency call.
Let us take charge in the event of a mold infestation. We can offer you:
A Free Visual Mold Inspection for Property Owners Only
Service Drying and Dehumidifying Your Property to Prevent New Mold Growth
The Removal of All Items Infested with Mold
Total Mold Decontamination for Commercial and Residential Properties
The Restoration and Renovation of Your Property
Getting help right away can decrease the total costs you will face for property restoration after a mold infestation. The techs at 911 Restoration of Central Illinois also have experience working with all insurance companies, which can lower the stress associated with mold removal.
Contact us today and our mold remediation Peoria IL techs can begin cleaning and disinfecting your property so you can get a Fresh Start after a mold infestation. Please call us at 309-244-4178
Professional Mold Cleanup is a Phone Call Away in Peoria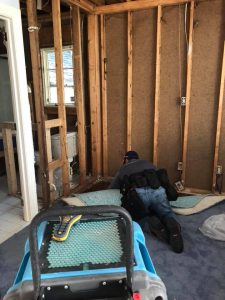 Many property owners worry about their health if they spot mold growth in their homes or businesses. There are many forms of mold that can cause allergic reactions if their spores are inhaled. There are also toxic molds – including black mold – that can have more serious health consequences.
You do not have to endanger your health by handling mold removal on your own. The mold remediation techs at 911 Restoration of Central Illinois have the equipment and training to safely rid your property of mold.
We can begin assessing your unique needs with a mold inspection. As a locally owned and operated company, we can reach your home or business quickly, so you do not have to keep inhaling mold spores. Our techs are IICRC certified to take care of all aspects of mold decontamination.
Make sure you are ready to get the help you need after you spot mold by contacting 911 Restoration of Central Illinois. Our licensed, bonded, and insured technicians can:
Look for Structural Damage Caused by Mold
Repair Leaking Pipes or Damage Caused by Floods
Disinfect All Areas That Experienced Mold Growth
Renovate Your Property after Any Type of Mold Infestation
You can even count on 911 Restoration of Central Illinois to handle odor removal after a mold infestation. Techs use professional-grade air filters and antifungal tools to ensure that your property is returned to better-than-new condition. Get the help you need by calling us at 309-244-4178 today.
You Can Get Total Mold Remediation Services Today
Mold removal can be a painless process if you get professional help on your side as soon as you notice an infestation. Property owners in Peoria, Normal, Bloomington or any surrounding cities can get the help they need right away by calling the techs at 911 Restoration of Central Illinois.
We understand all aspects of the mold remediation process. Our techs are trained to assess and repair water damage. Moisture allows mold to thrive, so drying and dehumidifying your property after a pipe burst or a flood can reduce the ability of mold to spread and grow.
You can count on us to handle all types of mold, including toxic mold that can be dangerous to inhale. We will:
Carry Out a Professional Mold Inspection
Isolate Areas Experiencing Mold Growth
Use Air Filters to Remove Mold Spores
Focus on Mold Cleanup Using Professional Cleaning Equipment
Handle Mold Decontamination with IICRC Certified Techniques
Getting help handling mold removal can limit the total damage to your home or business in Normal, Peoria, Bloomington and any surrounding cities. 911 Restoration of Central Illinois has the experience and training to take on large and small mold infestations in both commercial and residential properties.
Your health and peace of mind are of utmost importance to us. Get a Fresh Start after a mold infestation by letting the pros at 911 Restoration of Central Illinois completely restore and renovate your home or business. We can bring your property back to better-than-new condition, starting today. Call us at 309-244-4178 and please allow us to offer you a free visual inspection.
Serving the communities of Armington, Bloomington, Canton, Carlock, Champaign, Chillicothe, Congerville, Cooksville, Creve Coeur, Danvers, Deer Creek, Delavan, Galesburg, Havana, Pekin, Peoria County Mold Removal , Peoria County Water Damage, Washington and surrounding areas.