Water Damage and Mold Removal in Congerville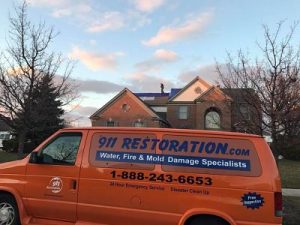 Get the water damage restoration and mold removal services you need after a winter storm, flood, or pipe burst in Congerville. You can call 911 Restoration of Central Illinois 24/7/365 to speak with IICRC certified flood cleanup techs. Crews can reach your property within 45 minutes of an emergency call to begin repairs and offer you a Fresh Start.
Start returning your property to better-than-new condition by contacting us immediately. Flood cleanup techs can extract water, dehumidify your property, and perform a mold inspection in Congerville. We are licensed, bonded, and insured to take care of mold remediation and mold decontamination, so your property can be returned to better-than-new condition.
How Can Water Damage Restoration in Congerville Help You?
Did you know that water can begin seriously damaging your property in only a few hours? Beginning water extraction and flood cleanup in Congerville quickly can limit the total damage to your property and possessions. That's why 911 Restoration of Central Illinois is on-call around the clock. We can get to work for you by:
Assessing Your Needs with a Water Damage and Mold Inspection

Beginning Water Extraction Quickly

Repairing Frozen Pipes, Ice Dam Damage, and Pipe Bursts

Dehumidifying Your Property

Taking Care of Mold Remediation and Mold Decontamination
Mold removal techs understand that mold can grow fast after a pipe burst. Let us thoroughly check your property during the water damage restoration process. Crews can focus on mold remediation if they spot any signs of mold growth during your mold inspection.
Does Mold Remediation in Congerville Remove All Mold?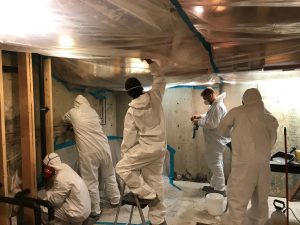 No one likes to think about mold growing in their home or business. In fact, some levels of mold are normal in your home or business. However, water damage caused by a snowstorm, pipe burst, frozen pipe, or heavy rains can disrupt the balance of your property, leading to a mold infestation.
Flood cleanup and mold remediation in Congerville can take care of this problem for you. Mold removal in Congerville involves:
Stopping the Spread of Mold

Removing Items Infested with Mold

Thorough Mold Decontamination

Odor Removal and Repairs for Items Damaged by Mold
Note that normal amounts of mold may still be found in your property after water damage restoration and mold decontamination in Congerville. However, thorough dehumidification and flood cleanup can ensure mold levels remain normal and safe for your property.
Recover from any water damage emergency or mold infestation by contacting 911 Restoration of Central Illinois today. Our Congerville water damage restoration and mold removal techs can rush out to your property to go over your needs with a water damage and mold inspection. Let us handle all your needs now, so you can get a Fresh Start.
Servicing the cities of Armington, Bloomington, Canton, Carlock, Champaign, Chillicothe, Congerville, Cooksville, Creve Coeur, Danvers, Deer Creek, Delavan, Downs, East Peoria, El Paso, Ellsworth, Farmington, Galesburg, Green Valley, Gridley, Groveland, Havana, Heyworth, Hopedale, Hudson, Le Roy, Lewistown, Lexington, Lincoln, Mackinaw, Manito, Mason City, Mclean, Minier, Morton, Normal, Pekin, Petersburg, San Jose, Shirley, Stanford, Towanda, Tremont, Washington… and surrounding areas.