Water Damage and Mold Removal in Bloomington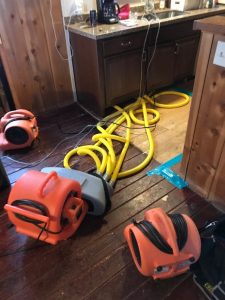 Whether it's your home or your business, your property is a testament to your good taste and diligent efforts. A property is something that is earned and maintained with effort. It's a manifestation of your unique goals and vision. And if your property is in the Bloomington area, it's also at constant risk of water damage.
The water damage restoration staff at 911 Restoration understand that there is nothing more disheartening than discovering a pipe burst has sent gallons of water flooding into your home or business. Whether it's a flooded basement, water damage in your crawl space, or a toilet backup, water is bad news for the structure of your property.
That's why our water damage remediation experts act fast to minimize the damage with emergency water removal. They are available to you 24 hours a day, 7 days a week, all year long. No matter when you call, you can expect IICRC certified flood cleanup staff at your door in 45 minutes or less. That's a guarantee.
The technicians at 911 Restoration are highly trained to conduct full-service water damage restoration in Bloomington. They manage everything, from water extraction to damage repair to mold remediation. They even offer comprehensive support through the insurance claim process, helping you interpret your insurance plan and file a claim.
Our greatest goal at 911 Restoration is to take the burden of water damage restoration off your shoulders. We want you to be able to put this incident behind you the moment technicians arrive, confident that your flood cleanup needs are taken care of.
If you're in need of water damage restoration in Bloomington, contact 911 Restoration today. Experts are standing by, waiting to deliver peace of mind in 45 minutes or less. call 911 Restoration of Central Illinois at our number 309-244-4178
Emergency Water Removal In Bloomington
Time is of the essence when a pipe burst or summer thunderstorm sends water seeping into your home or business. If you call 911 Restoration, you can count on water damage restoration technicians to respond with the exact level of urgency you feel. They arrive at your property promptly, offer a swift, free visual inspection for property owners, and make an immediate plan for emergency water removal and cleanup.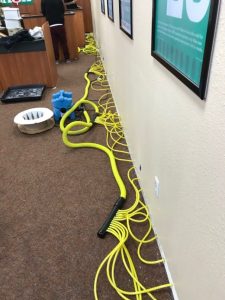 They offer a wide range of emergency services, including packing out undamaged belongings, roof repair, storm repair, boarding up, and leak detection. After the source of your water damage has been addressed and all water has been extracted, they bring in professional fans to dry out the water damage completely. These fans help prevent mold infestation by eliminating any humidity that might still be lingering in the structures of your property. Even so, you can count on your water damage restoration specialists to also take care of mold inspection and mold remediation, should an infestation arise.
Of course, sometimes water damage is so extensive that structural destruction cannot be avoided. Don't worry. If your carpet is contaminated, your wood flooring has rotted out, or your drywall is compromised, the technicians at 911 Restoration are trained to handle that, too. They can repair any structural damage, so you don't have to shell out extra time and money to hire an additional contractor.
In fact, at 911 Restoration, we prefer to be the ones who oversee the restoration of your property, from initial flood cleanup to mold removal. That way, our water damage restoration crew can be sure your home or business is fully restored to its former glory.
If you need flood cleanup in Bloomington or the surrounding area, call 911 Restoration today. Let our technicians give you more than a drier property. Let them give you a Fresh Start. Call us at 309-244-4178 and allow us to provide you a free visual inspection.
Mold Inspection After Basement Flooding
When you've experienced a flooded basement or any other form of water damage, your property is extremely vulnerable to a mold infestation. This is true anywhere, but it's especially true in Central Illinois, where the humid climate makes structural dehumidifying a longer, more complicated process.
The water damage technicians at 911 Restoration are also experts in mold removal. They follow all water damage restoration procedures with mold inspection and remediation, because they understand that they haven't fully restored your property if the threat of new damage still exists. They inspect every surface of the flood area, including within walls and on sheetrock. They leave no stone unturned, because they know that mold removal today prevents damages down the road. And those damages include damage to your property and to your own health.
To the staff of 911 Restoration, you are a human being, a hard-working property owner, and a neighbor. Our water damage restoration technicians approach your property incident as if you were family. They are thorough, professional, and compassionate.
For expert service from a company who cares, call us at 309-244-4178 911 Restoration today.
Serving the cities of Armington, Bloomington, Canton, Carlock, Champaign, Chillicothe, Congerville, Cooksville, Creve Coeur, Danvers, Deer Creek, Delavan, Downs, East Peoria, El Paso, Ellsworth, Farmington, Galesburg, Green Valley, Gridley, Groveland, Havana, Heyworth, Hopedale, Hudson, Le Roy, Lewistown, Lexington, Lincoln, Mackinaw, Manito, Mason City, Mclean, Minier, Morton, Normal, Pekin, Peoria, Petersburg, San Jose, Shirley, Stanford, Towanda, Tremont, Washington, and surrounding areas.