Water Damage Peoria
911 Restoration of Central Illinois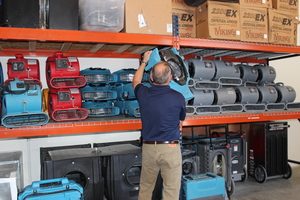 Water damage restoration from 911 Restoration of Central Illinois is more than simple property repair, it is a fresh start from a father and son team who focus on their customer needs. Alex Peters and his son Aaron decided to branch into the water restoration industry to help people.
They both work for charities in their off hours. Alex works with the Intellectual Disability Drive and Aaron is a participant in the Boys and Girls Club. Disaster Restoration allows them to make a living while following their passion of helping others.
Call our water removal professionals for same day service when your building floods and we will be there within 45 minutes.
Water Damage Restoration
Water damage restoration Peoria services need to be handled by certified professionals to ensure the property is fully repaired. During floods, the inner supports can be damaged. With the latest drying technology and moisture readers, our water damage Peoria specialists can check walls for moisture behind the drywall. We will cut a minimal section and dry the whole area completely.
Our goal is to return you to your peaceful life as soon as possible after a plumbing failure, rain leak, or other water disaster. We hire certified water damage restoration Peoria technicians and we are licensed, bonded, and insured to give you the best property restoration available. Call Alex and Aaron Peters for the best help today.
Mold Removal
Mold removal Peoria services require a professional's touch. For homeowners, we offer a free visual home inspection so that we can find all affected areas of your home and fully eradicate the mold. Once we determine your property needs mold remediation, Alex, Aaron, and their professional crew of mold removal experts get right to work, protecting the people of Peoria and Central Illinois from the spreading spores.
Mold can cause unsightly and unsanitary conditions. The fungi eat through organic materials such as paint, drywall, and wood, compromising the structure of buildings with mold. We are trained to provide mold remediation and all the property repair you need after the fact.
Mold is linked to water damage, so it is important that you rely on a quality company such as 911 Restoration for mold removal and water removal. Call us for a fresh start today.
Fire Damage Restoration
Fire Damage Restoration Peoria Services are often covered by insurance, and our fire and smoke damage crew will be happy to assist you when working with your insurance company.  We can prepare your paperwork and support you throughout the process.
Alex and Aaron Peters understand how difficult and devastating it can be to witness a house fire, so whether you have minor smoke damage and soot on your walls, or a full-fledged fire, we will come in after the fire department and start the recovery process.
911 Restoration of Central Illinois is prepared to fully repair your property and work with you to make it better than ever.
Our fresh stat attitude means that we will listen to you throughout the process and make sure you get exactly what you want on the other end. We strive to be the positive entity in any negative situation.
Let the caring and compassionate father and son team help you recover from fire damage and smoke stains by calling us today.
Sewage Backup Cleanup
Sewage backup causes odors, water damage, and health hazards. You want to rely on sewage backup cleanup Peoria professionals you can trust when it comes to recovering your home after a toilet overflow or your business after it suffers a drainage backup. 911 Restoration of Central Illinois offers quality water damage restoration, odor removal, and waste cleanup as part of our sewage backup services.
When a toilet leak, septic failure, or other unsanitary issue erupts, call us right away for same day service that starts the process of recovering and repairing your property. Do not try to remove any contents from the area or shut off the water if any category three (black) water is present, as this can lead to disease. Our crews wear full hazmat suits in these situations to avoid sickness.
Disaster Restoration
Disaster restoration occurs after major storms hit the area. Our water damage Peoria technicians are fully certified to handle all your water, fire, and mold repairs. When major storms and other disasters damage a property, we will be there within 45 minutes to start your fresh start. We are the positive in these negative situations because we know how important it is to have a clear sense of a better future when the present seems so dark.
We will be grateful and humble throughout the disaster restoration Peoria services. If you reside or work in the Central Illinois area, we will be happy to help you with your disaster restoration.