Water Damage and Mold Removal in Peoria County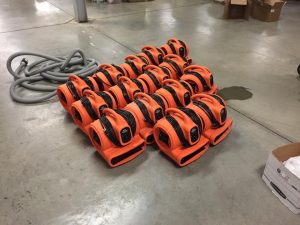 Anyone should be proud to live or work in Peoria, Illinois. It's a community with a distinctive character, friendly neighbors, and great options for family fun. That said, no place can be entirely perfect, and the downside to life in Central Illinois will always be its wild and sometimes unpredictable weather patterns.
Whether it's a pipe burst after a particularly icy winter or a flooded basement in a summer thunderstorm, local property owners are at frequent risk of water damage. Tornadoes, heavy rain, and frigid temperatures all conspire to cause roof damage, ceiling leaks, sewage backups, and a dozen other property disasters. And when incidents like these occur, you can't afford to wait too long for water damage restoration. call 911 Restoration of Central Illinois at our number 309-244-4178
Fortunately, you always have an emergency water damage restoration ally in 911 Restoration of Central Illinois. Our expert technicians are on call 24/7/365 to tackle any flood cleanup in Peoria and the surrounding communities. Call any time, day or night, and staff will be at your door within 45 minutes, guaranteed.
Every water damage restoration professional is 100% IICRC certified, so you know you're working with true experts who know how to handle emergency water removal safely. No matter how big or small the job, no matter what type of damage you have as a result of your property water incident, these specialists can help. They are also highly trained in mold remediation—a common need following water damage of any kind.
In addition to professional expertise, our water damage restoration staff know how to deliver true peace of mind. They understand that water damage is always an interruption to your routine, a threat to the property you've worked so hard to maintain, and a potential burden on your pocketbook. They work diligently to make the entire process is as smooth and painless as possible, including offering a free insurance consultation and helping you file a claim so you get all the coverage to which you are entitled.
Whether you own a home or a commercial property, let 911 Restoration be your go-to for water damage restoration in Peoria. Call today, and let expert technicians give you true peace of mind. call us 309-244-4178
Comprehensive Cleaning Services For Water Damage In Peoria
You probably don't need anyone else to tell you what a flooded basement or dripping ceiling could mean for the health of your property. When you watch water fill your home or business, you instinctively start calculating the potential damages. Will your floorboards rot out? Will you need carpet removal in your basement? Will spores gather on your drywall and require costly mold decontamination?
The term "water damage restoration" can encompass many things. Rest assured the flood cleanup staff at 911 Restoration is more than capable of handling every challenge your unique situation presents.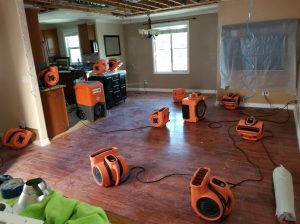 They accomplish this first of all by responding to your water incident with the greatest urgency, so you're less likely to have extensive damage in the first place. They protect all your items by packing them and storing them away before they begin emergency water removal. They bring in professional fans to dry out water damage, and they replace any surfaces that require repair.
They even handle mold inspection and mold removal, recognizing the heightened risk of contamination after a basement flood. Call us at 309-244-4178 and please allow us to offer you a free visual inspection.

Many people doubt whether their business or house will ever be the same after water damage. The truth is, the right water damage restoration company can make your property even better than it was before.
911 Restoration seeks to do exactly that for all property owners in need of water damage restoration in Peoria. Call today and find out how this disaster is really an opportunity for a Fresh Start.
Certified Mold Removal Company
Mold inspection and mold removal should always be included in water damage restoration services.
Flood cleanup can be a complicated process. Oftentimes, the period of time between the initial disaster and total structural drying is just long enough for mold spores to settle and create colonies. Mold removal is an especially common need in Central Illinois, where high humidity makes the drying process even longer.
This is why the staff of 911 Restoration of Central Illinois are also mold remediation experts. They immediately conduct a professional mold inspection to ensure that your property truly is in its healthiest condition after water damage restoration. If they find any growth, they follow up with mold decontamination, careful to fully extract the colony without spreading spores throughout your property.
No matter what your home or business has recently survived—a sewage backup, a pipe burst, a flooded basement, or any other type of water damage—you can count on 911 Restoration for fast, compassionate, expert service. They are your best and most affordable choice for mold removal and flood cleanup in Peoria, Bloomington, Normal, and the surrounding area.
Call us at 309-244-4178 911 Restoration today, and let water damage restoration experts put today's disaster firmly in your past.
Serving the cities of Armington, Bloomington, Canton, Carlock, Champaign, Chillicothe, Congerville, Cooksville, Creve Coeur, Danvers, Deer Creek, Delavan, Downs, East Peoria, El Paso, Ellsworth, Farmington, Galesburg, Green Valley, Gridley, Groveland, Havana, Heyworth, Hopedale, Hudson, Le Roy, Lewistown, Lexington, Lincoln, Mackinaw, Manito, Mason City, Mclean, Minier, Morton, Normal, Pekin, Peoria, Petersburg, San Jose, Shirley, Stanford, Towanda, Tremont, Washington, and surrounding areas.