Water Damage From Storms in Illinois – What to Expect?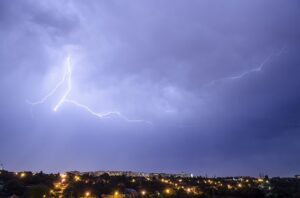 Residents of Central Illinois witnessed some of the worst tornados and storms this here. The threat still looms at large as unpredictable weather throws curveballs our way. During these situations, you must know what to expect when your property sustains water damage from storms.
The Severe Weather Preparedness Guide released by Illinois Emergency Management Agency asks residents to stay safe and alert throughout the stormy seasons. One of the key instructions includes detailed home inspections once the sun shines again.
911 Restoration of Central Illinois and our dedicated team of home restoration experts share some tips on identifying structural issues in the aftermath.
Here's what you should know:
What Should You Do After a Storm?
First, cut off the power supply from your home and ensure everyone has a safe space to stay. After that, take time to inspect your home for water damage from storms by examining areas near windows and doors. Survey the attic, bathrooms, kitchen, and basement for leaks and burst pipes before you head outside. Look at rooftop, gutters, vents foundations, and signs of standing water/clogs when you assess your home exteriors.
A detailed survey allows you to determine what type of water damage your house sustained during the rough weather. You can call a professional to figure out if you need to replace damaged structures or minor repairs that will keep the place intact.
Here's a closer look at the target sites we mentioned:
Attic and Room Ceilings
Attic and ceilings are the most overlooked spaces in the house. Homeowners often forget to check these areas for water damage from storms. This negligence can lead to severe damage that spreads to other rooms.
We recommend using a flashlight to prevent electrical issues when you enter the attic. Look for roof leaks, discoloration, dampness, and musty odors to assess your attic's condition. In most cases, these red flags indicate possible water damage beneath the drywalls or within the ceilings.
Moreover, unseen leaks and hidden mold growth might cause interior paint to crack, bubble, and display a distorted appearance. Wood rot and weakened structures are other signs of moisture intrusion.
Roof and Decks
Observe rooftops and deck for visible indication of water damage. Torrential rain and hailstorms might cause the shingles to fall off, crack, or break. This type of damage leaves holes within the roof that can cause leakage when it rains again.
Likewise, look for misshaped wood, missing panels, and faded color on your deck/patio.
In both cases, record the damage by listing problems and taking photographs. These things serve as evidence to file a property insurance claim if the situation requires extra coverage.
Windows, Vents, and Gutters
Many homeowners board up their windows and screen their vents to prevent water from entering their house. Thunderstorms and rainfall can break these barriers when your area experiences a torrential storm or a tornado.
Therefore, it's important to check for water damage from storms during the inspection. Look for cracked or broken glass, ripped screens, dents, and evident signs of weather-stripping.
Besides this, touch the walls inside and outside this area. If they are damp, you might need to evaluate the severity of moisture intrusion beneath the surface. These preventive measures will keep your house safe from mold growth, mildew, and collapsible structures.
In addition to this, clogged gutters and improper drainage might lead to standing water. Ensure that these areas get dried and dehumidified before they cause any trouble.
Basements
Flooded basements are one of the most common forms of water damage from storms. Home restoration experts can assess the situation by identifying red flags outside. Their expertise proves resourceful when you know there are wires and storm-damaged electrical appliances inside the basement.
Dark water stains, cracks in the foundation, and calcification are visible indicators of a flooded basement. Our team of experts uses heavy-duty sump pumps, industrial vacuums, and dehumidifiers to remove all traces of water from the area.
How Can 911 Restoration of Central Illinois Help?
Our team of home restoration experts has years of experience in dealing with water damage from storms. It's why the 911 Restoration of Central Illinois takes pride in providing effective remediation strategies and solutions.
The advantages of choosing us include:
24/7 emergency restoration services
IICRC-trained specialists
Free home inspections
Personalized water damage restoration services
Insurance support
Rest assured, we consider your input before taking any step. Our cooperative stances and professionalism allow us to prioritize your needs over everything else.
Parting Words
In conclusion, don't underestimate water damage from storms. The smallest roof repair and leakage trouble can lead to costly problems if you fix it with DIY hacks. Always call in professionals for help to prevent structural issues from escalating. Our water damage restoration services and disaster recovery care can help you assess the situation.
You can trust our experts to provide practical solutions for repair and remediation. Consequently, we can assist you (and your family) to return to preexisting conditions after restoration.
Ready to get a 'fresh start' after the storm?
Call (309) 244-4178 to contact our certified team from 911 Restoration of Central Illinois. We can answer all your queries and send immediate restoration support if required.