House Got Damaged From The Storm? Here's How We Can Help!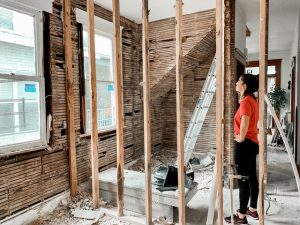 Illinois is home to some of the most scenic views in the USA, making it easy to fall in love with. However, the same love becomes a little scarce when storms hit and bring the full force of nature's fury with them. If you live in Central Illinois, you have probably experienced the notorious winter storms at some point.
We completely understand how devastating these storms are. They create uncertainty and leave extensive damage in their wake. However, you needn't worry about the storm damage. We know how emotionally draining the experience is and, therefore, offer home restoration and repair that will return your house to its pre-storm glory!
Types of Damages After a Storm
Illinois' elevation is under 1,235 feet which puts it at higher risk of flooding. Aside from flooding, this flourishing state also gets affected by various natural disasters, some of which occur less frequently than others.
Common Disasters
Severe Storms
Floods
Winter Storms
Tornadoes
Power Outages
Uncommon Disasters
Seiches – lake tsunamis
Earthquakes
Landslides
Wildfires
While severe storms are some of the most common disasters in Chicago, the state also gets turbulent winter from November till April, receiving an average of 5 winter storms in that period. While we cater to restorations for all disasters, storm damage is the one we deal with most frequently.
How 911 Restoration Helps Repair Storm Damage
As home restoration experts, 911 Restoration teams bring multi-tiered restoration services to help our clients navigate the damage caused by the most recent storm. Following are the main areas covered in our storm damage restoration process:
1.    Water Damage Restoration
Due to the higher risk of flooding, snowstorms, and thunderstorms, Illinois homeowners are most affected by water damage. Flooded basements, water leakages, and damp spots become a common feature and can weaken the house if unaddressed.
Mold Formation
Another reason why water damage is dangerous is that it leads to mold formation. Mold in fungal infestation and spreads if not removed. It is also dangerous and negatively impacts health, making it necessary to remove it.
When providing home restoration and repair, we ensure we find and remove any damage that has caused water damage or shows signs of being in an extreme state of disrepair. With your approval, our IICRC certified technicians draft reconstruction plans and start working.
2.    Fire Damage Restoration
Although it is relatively rare, some storms can set part of your house on fire. Fire damage is always one of the first because it destroys parts of the life people have built up over the years.
Knowing how emotionally and financially significant this restoration is, our technicians make sure they perform to the best of their abilities. They are also cognizant of your position and will go the extra mile to ensure you are satisfied with the outcome.
3.    Sewage Clean-up
Sewage is one of the most visible parts of storm-related damages, and the clean-up can be a hassle. However, we are home restoration experts, and our teams have the required knowledge and expertise to clean the sewage and waste that get left behind after the storm.
We will make sure we are clear sewage at your home and in the surrounding area, so you don't face any inconvenience or danger.
4.    Property Sanitization
Sanitization is crucial after storm damage because we have no idea how dirty or infected things are after getting exposed to all the pollutants and sewage the winds brought with them. Our strict SOPs follow regulatory requirements and disinfect and clean your home to make it safe for your usage.
5.    Emergency Restoration
In addition to all the services listed above, 911 Restoration also has a 24/7 helpline for Central Illinois residents. You can call us at 309-244-4178 if you need emergency services, and our team will reach you within 45 minutes.
For storms, energy restoration usually involves emergency water removal. Such cases are urgent and would cause dangerous damage without timely resolution. If you are facing an emergency, we urge you to call our helpline and request assistance immediately.
6.    Our Fresh Start Philosophy
Finally, we help you by offering the full support you need while we are restoring your house. Processing such damages is overwhelming, and we understand how difficult the situation is. Our technicians know you are stressed and will do their best to lighten things for you. They are reliable, so you never have to worry about restoration.
We strongly believe in starting life anew after such events and will help you create the best fresh start that you could have hoped for.
Wrapping Up
In short, 911 restoration offers one of the most comprehensive and supportive home restoration and repair services for storm damage. We will take care to consider all your needs, make detailed assessments, and work diligently to ensure you get to live in your restored house as soon as possible.
If you have any questions or inquiries, you can give us a call at 309-244-4178 or contact us by clicking on this link.